South Asia
Vulpes bengalensis
Bengal fox - © Punjabi
ProjectsRelevant LinksReports / PapersOther Names
English:
Bengal Fox, Indian Fox
Justification
The Indian Fox is endemic to the Indian subcontinent. Although widespread, it occurs at low densities throughout its range, and populations can undergo fluctuations due to prey availability and disease. Due to loss of short grassland-scrub habitat to intensive agriculture, industry and development projects the Indian Fox population is likely to be experiencing a slow decline. However, any decline is unlikely to be sufficient to warrant the listing of the species in a threatened category and the species is currently assessed as Least Concern.
Geographic Range Information
The Indian Fox is endemic to the Indian subcontinent. It ranges from the foothills of the Himalayas in Nepal to the southern tip of the Indian peninsula (but it is absent from the Western and Eastern Ghats). The species' range extends from Sindh province of Pakistan to north Bengal in the eastern part of India (Johnsingh and Jhala 2004). Occurs up to 1,500 m in Nepal and north-eastern India (Gompper and Vanak 2006).
Population trend:Decreasing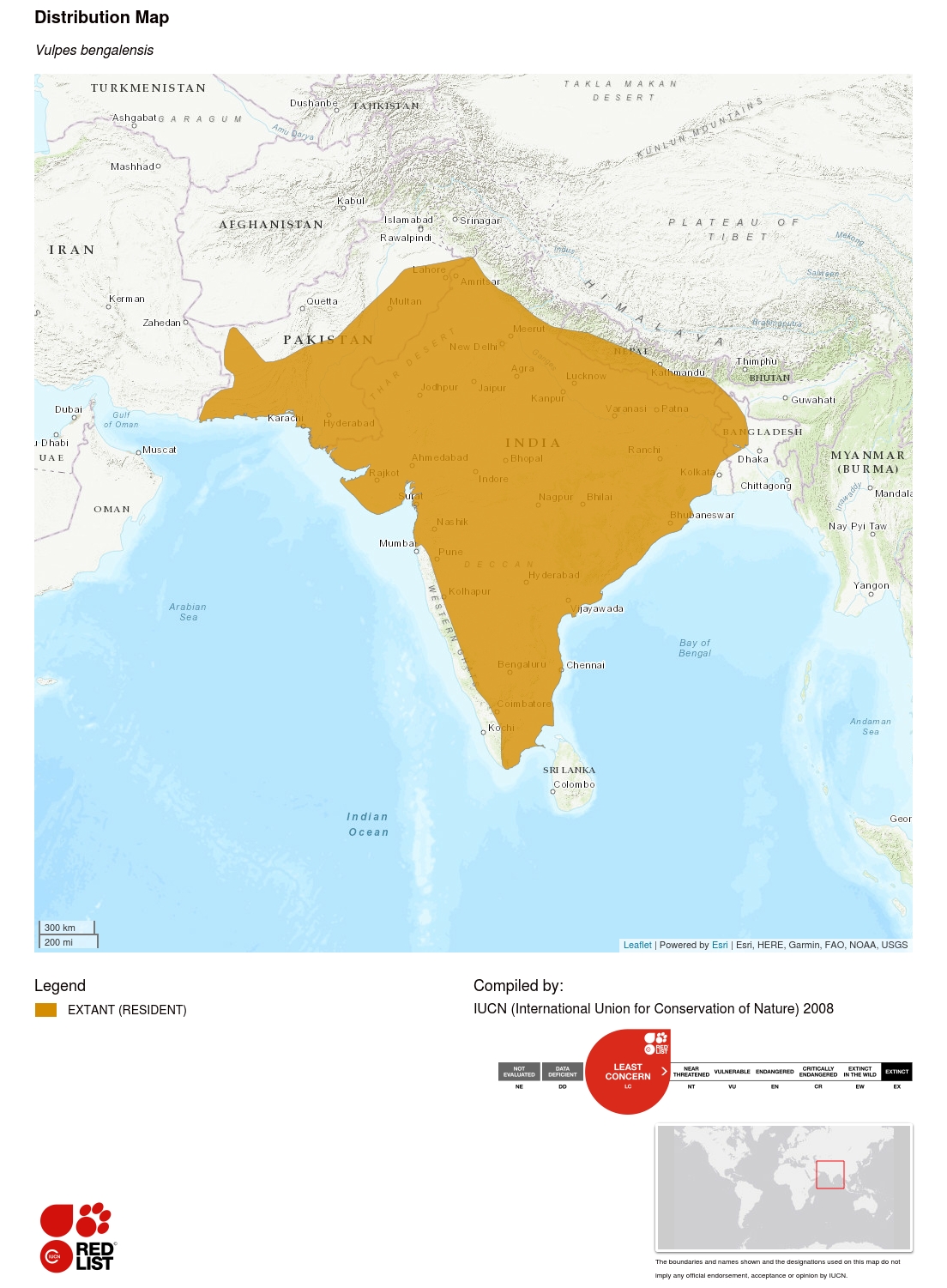 (Click on map for more detail)
Population Information
Although widespread, the Indian Fox is nowhere abundant in its range, with densities greatest in semi-arid grasslands of peninsular India. Densities seem to track rodent abundance (Johnsingh and Jhala 2004), which fluctuates widely between years in the species' prime habitat (arid and semi-arid zones) (Prakash 1975, Tripathi et al. 1992). Densities of breeding pairs ranged from 0.25–0.4/km2 in the Kutch area of Gujarat (Maurya 2012).
Habitat and Ecology Information
The Indian Fox prefers semi-arid, flat to undulating terrain, scrub and grassland habitats where it is easy to hunt and dig dens. It avoids dense forests, steep terrain, tall grasslands and true deserts (Johnsingh and Jhala 2004). The species is relatively common in areas of low rainfall, where the vegetation is typically scrub, thorn or dry deciduous forests, or short grasslands (Rodgers et al. 2000). In the Indian peninsula, the species is restricted to plains and open scrub forest. Home ranges have been estimated at about 2 km2 (Maurya 2012). Diet mostly consists of arthropods, rodents, reptiles, fruits and birds, in that order of occurrence in scats (Home and Jhala 2009). Pups are born between December and February, but can be as late as March. Short resource rich grassland patches in an agro-pastoral landscape are preferred for denning and pup rearing (Punjabi et al. 2013).
Threats Information
Although the Indian Fox is widespread, it occurs generally at low densities throughout its range, and populations can undergo major fluctuations due to prey availability and disease (rabies and canine distemper virus have been recorded to cause local population declines in western India). They can tolerate some human disturbance, although with expanding human populations and continued development of grasslands for agricultural and industrial uses, the habitat of the Indian Fox is continuously being depleted. The combination of above factors along with disease and/or natural mortality could potentially cause localized extirpations. In certain states like Gujarat, Maharashtra, and Rajasthan, Indian Fox habitat is widespread with minimal threats, while in other states like Karnataka and Tamil Nadu the habitats of the Indian Fox are under threat (Johnsingh and Jhala 2004).
Use and Trade Information
There are no known commercial uses for the Indian Fox, although there is limited localized hunting and trade for skin, tail, teeth and claws for medicinal and charm purposes. There is otherwise no trade or potential for trade of the Indian Fox.
Conservation Actions Information
Legislation
The populations of India are listed on CITES Appendix III. The Indian Wildlife Protection Act (1972 as amended up to 2005) prohibits hunting of all wildlife and lists the Indian Fox in Schedule II. It is not on any special category for protection in the wildlife legislation of Nepal.

Presence in protected areas
Occurs in protected areas in India and in Nepal, including Bardia National Park, Chitwan National Park and Shukla Phanta Wildlife Reserve. Occurrence of the Indian Fox in Langtan National Park and Shey Wildlife Reserve in Nepal was reported by Shrestha (1997); however, this has not been confirmed and is considered unlikely (Johnsingh and Jhala 2004). In India, the species also occurs in the Desert National Park in Rajasthan; Velavadar Blackbuck National Park, Kachchh Bustard Sanctuary, Narayan Sarovar Sanctuary in Gujarat; Sholapur Bustard Sanctuary in Maharashtra; Rollapadu Wildlife Sanctuary in Andhra Pradesh as well as several other protected areas.

Presence in captivity
The Indian Fox is held in captivity in several zoos in India, where the species breeds well. In 2001, there were 15 males, 14 females, and 11 unsexed individuals in several zoos (Central Zoo Authority pers. comm.).

Gaps in knowledge
A status survey is needed to identify areas throughout the species' range that have large, relatively secure fox populations. In some of these areas, an in-depth, long-term study is needed on population dynamics of the Indian Fox. This would help elucidate the fox's relationship with prey population cycles and disease outbreaks. Research is also needed on ranging patterns, territoriality, and behaviour of this poorly studied species.