South America
Pseudalopex gymnocercus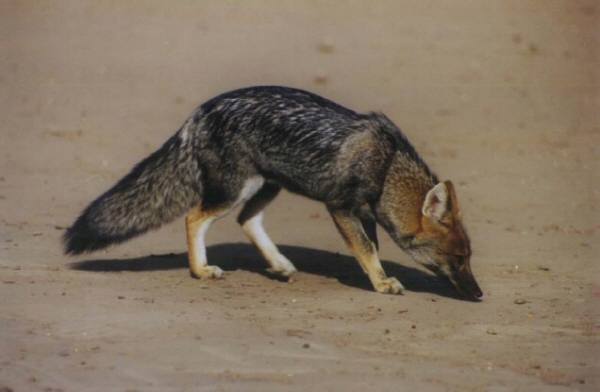 Pampas Fox - © Marcelo Dolsan
ProjectsRelevant LinksReports / PapersOther Names
Synonym: Lycalopex gymnocercus
English: Pampas Fox, Azara's Zorro, Azara's Fox, Azara's Fox
Spanish: Zorro De Azara, Zorro De Campo, Zorro Del País, Zorro De Patas Amarillas, Zorro Pampa, Zorro Pampeano
French: Renard D'azara, Renard D'Azara
The Pampas Fox inhabits the Southern Cone of South America, where it is either abundant or common in most areas where the species has been studied. The species seems to be tolerant of human disturbance, being common in rural areas, where introduced exotic mammals could form the bulk of its food intake. The species is not considered threatened at present.
Population trend:Increasing
(Click on map for more detail)
Habitat and Ecology:
The Pampas Fox is a typical inhabitant of the Southern Cone Pampas grasslands. It prefers open habitats and tall grass plains and sub-humid to dry habitats, but is also common in ridges, dry scrub lands and open woodlands (Brooks 1992; Redford and Eisenberg 1992). In the driest habitats in the southerly and easterly parts of its range, the species is replaced by the Chilla. Where its range overlaps with that of the Crab-eating Fox, the Pampas Fox would select more open areas. Apparently, the Pampas Fox has been able to adapt to the alterations caused by extensive cattle breeding and agricultural activities to its natural habitats.
Major Threats:
The implementation of control measures (promoted by ranchers) by official organizations, coupled with the use of non-selective methods of capture, represent actual threats for the Pampas Fox. Fox control by government agencies involves the use of bounty systems without any serious studies on population abundance or the real damage that this species may cause. In rural areas, direct persecution is also common, even where hunting is officially illegal.
Most of the species' range has suffered massive habitat alteration. For instance, the Pampas, which represents a large proportion of the species' distribution range, has been affected by extensive cattle breeding and agriculture. Approximately 0.1% of the original 500,000 km² range remains unaffected. However, due to the species' adaptability, the Pampas Fox seems able to withstand the loss and degradation of its natural habitat, as well as hunting pressure. Since no studies are available on its population dynamics in rural ecosystems, caution is required, since the sum of these threats may eventually promote the depletion of fox populations. Hunting pressure has resulted in diminished populations in the provinces of Tucumán (Barquez et al. 1991) and Salta (Cajal 1986) of north-western Argentina.
Considering that the Pampas Fox trade is banned, no statistical information on the fur harvest is available. Different authors have pointed out that Argentine exports corresponding to the Chilla historically included other species, such as the Crab-eating Fox and the Pampas Fox (Ojeda and Mares 1982; García Fernandez 1991).