Central & North America
Urocyon cinereoargenteus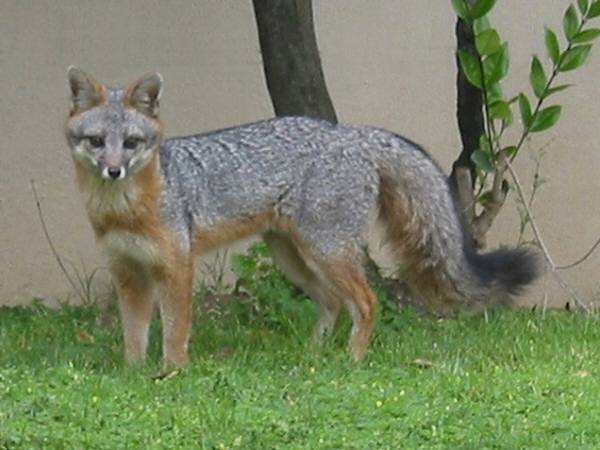 Gray Fox - © Karen Brown
Relevant LinksReports / PapersOther Names
English: grey fox, tree fox; Spanish: Gato Cervan, Gato De Monte, Zorro, Zorro Gris, Zorro Plateado
The Gray Fox is widespread in forest, woodland, brushland, shrubland, and rocky habitats in temperate and tropical regions of North America, and in northernmost montane regions of South America. There is no good evidence that Gray Fox numbers are increasing or decreasing in any part of their range. The species is not considered threatened at present.
Population trend:Stable
(Click on map for more detail)
Habitat and Ecology:
In eastern North America, the Gray Fox is most closely associated with deciduous/southern pine forests interspersed with some old fields and scrubby woodlands (Hall 1981). In western North America, it is commonly found in mixed agricultural/woodland/chaparral/riparian landscapes and shrub habitats. The species occupies forested areas and thick brush habitats in Central America and forested montane habitats in South America (Eisenberg 1989). Grey Foxes occur in semi-arid areas of the southwestern USA and northern Mexico where cover is sufficient. They appear to do well on the margins of some urban areas (Harrison 1997).
Major Threats:
Habitat loss, fragmentation, and degradation, may be particularly problematic in regions where human numbers are increasing rapidly and important habitat is converted for agricultural, industrial, and urban uses.
Because of its relatively lower fur quality compared with other species, commercial use of the Gray Fox is somewhat limited. However, 90,604 skins were taken in the United States during the 1991 and 1992 season (Linscombe 1994). In Mexico, Gray Foxes are frequently sold illegally as pets (R. List pers. comm.).