South America
Pseudalopex vetulus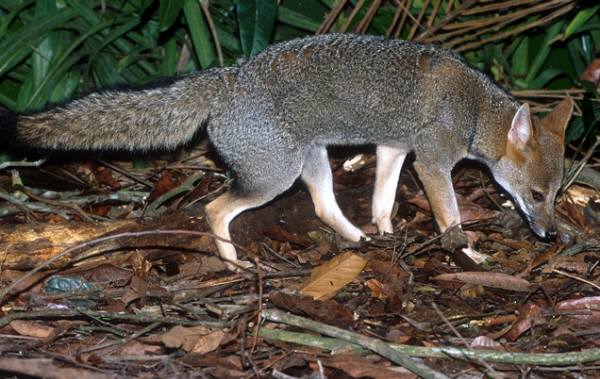 Hoary Fox - © Adriano Gambarini
Amazonian Canids Working Group - Karen DeMatteo and Fernanda Michalski are the coordinators of the Amazonian Canids Working Group. This working group is focused on four species: the short-eared dog, crab-eating fox, bush dog, and South American foxes. Amazonian canids are similar to many carnivores worldwide whose long-term survival is threatened by a variety of direct and indirect threats, including habitat loss, expansion of hydroelectric dams, illegal hunting of prey, and diseases from domestic dogs.
ProjectsRelevant LinksReports / PapersOther Names
Synonym: Lycalopex vetulus
English: Hoary Fox, Small-toothed Dog, Hoary Zorro
French: Renard Du Brésil
Spanish: Zorro De Campo Común
Listed as Least Concern as this Brazilian endemic is relatively widespread and locally abundant in the central highland cerrado biome, and exhibits some adaptability to anthropogenic disturbance. There are at present no major known threats believed to be resulting in a significant range-wide decline.
Population trend:Unknown
(Click on map for more detail)
Habitat and Ecology:
Occurs in open cerrado habitats, but readily adapts to insect-rich livestock pastures and areas of agriculture (soybean, rice, corn, eucalyptus plantation). Rarely observed in densely wooded cerrado, floodplains, dry or gallery forests.
Major Threats:
The principal biome where Hoary Foxes occur is the cerrado which is being destroyed at a rate of 3% each year, largely in the interests of agriculture (livestock and soybean) (MMA-BRASIL 1998). However, it appears that Hoary Foxes adapt to livestock pasture rich in termites and dung beetles. Breeding foxes are found in deforested wooded areas (J. Dalponte, pers. obs.), thus it is possible that deforestation may not have a negative impact on the species. Areas of high human population density are unlikely to be suitable. The species is not exploited for fur or any other products.
Conservation Actions:
Occurs in a number of protected areas throughout its range.

The species is currently listed as Least Concern on the Brazilian Red List (Machado et al. 2005); it is classified as Near Threatened in the Minas Gerais state list.

Hunting and trade in wildlife is generally forbidden in Brazil. There is no specific hunting legislation for Hoary Foxes.

Specimens in Brazilian zoos at the time of writing include: Brasilia (1); São Paulo (1); Ribeirão Preto (1); Belo Horizonte (5); Teresina (1). High mortality rates due to starvation amongst captive cubs are reported. There are no current plans to reintroduce hoary foxes into the wild.

Gaps in Knowledge:
Areas for further research include focusing on aspects of behavioural ecology, population status, geographical range, the potential role of disease in population regulation, and their status as potential reservoirs of veterinary (e.g., scabies, distemper) and public health (e.g., leishmaniasis, rabies) pathogens.